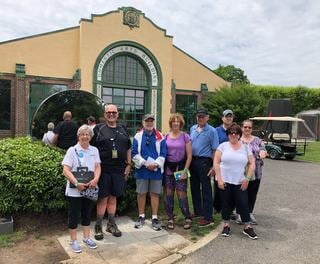 On June 7, 2019, Lingraphica's User Group in Princeton departed from our usual format of meeting at the office. Instead, we headed a few miles down the road to a 42-acre sculpture garden called Grounds for Sculpture. Here's a glimpse into a little bit of what we saw and the fun we had.
Lingraphica's User Group typically meets every three weeks at our Princeton office. The group—whose members include people with aphasia, primary progressive aphasia, and their caregivers—enjoy breakfast and coffee before we catch up on each other's lives since we last met. Then there's some "tech time," when we talk about apps, devices, or play some aphasia trivia. The last section of our meetings divides the caregivers from those who have aphasia into two separate times where the caregivers can discuss their needs and challenges, while the members with aphasia discuss a specific topic (like vacation or holiday) with a Lingraphica staff member.
But last month, we took our User Group on the road to Grounds for Sculpture, a beautiful park just south of Princeton that was founded by J. Seward Johnson and opened to the public in 1992.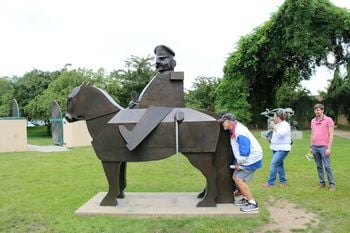 The park contains more than 270 works of art, some of which come from artists local to the New Jersey area. During our visit, we saw several pieces that our guide, RJ, said were not there the day before! RJ, who we requested at the suggestion of one of our members, also has aphasia due to a stroke he had in the '80s. He loved learning about the devices, apps, and online therapy that Lingraphica offers to stroke survivors and those with other communication disorders.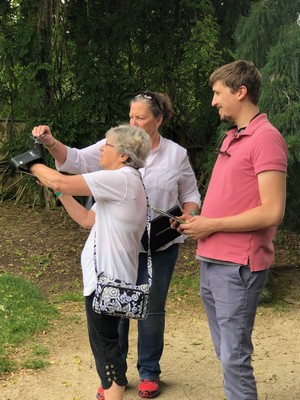 As we walked through the park, one of our members (Rita) used her Lingraphica TouchTalk device to take photos of the sculptures and scenery that she enjoyed. She can share those with family and friends or make icons on her device to tell a story of what she saw that day.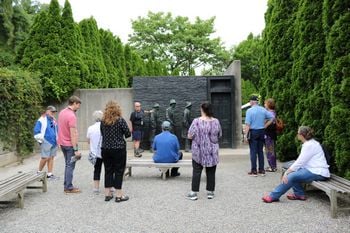 The group stopped to take in the metal sculpture representing a bread line from the Depression era. The men who were featured in the piece were modeled after friends of artist.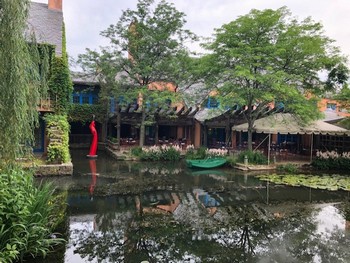 The park contains a high-end restaurant named "Rats." Seward Johnson loved a book called "The Wind in the Willows," featuring a character called "Ratty," for whom Johnson named the eatery.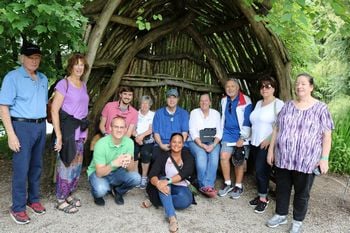 The group loved the visit to Grounds for Sculpture. Several members had never been to the park before, and getting to enjoy a tour together with friends made the trip special.
If you seek information on stroke or aphasia support, visit our website for information on our TalkPath News Group on Facebook and support group resources.