In June, both the Adler Aphasia Center and the Triangle Aphasia Project celebrated sixteen years of research, awareness, and advocacy. Both events were proudly sponsored by Lingraphica.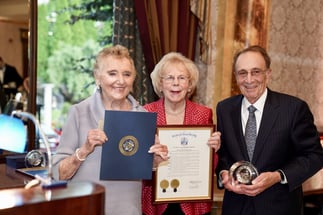 The Adler Aphasia Center marked the occasion at its Annual Gala on June 11th. The event was hosted by Emmy® Award Winning PBS Anchor, Steve Adubato. Those who were honored at the event include:
Stroke and aphasia survivor, Avi Golden, received Adler's 2019 Shining Star Award for his work with the "Aphasia Awareness Training for Emergency Responders Project" among other prominent activities within the community.
Audrey Holland, renowned professor of speech, language and hearing sciences was presented the 2019 Karen Tucker Advocacy Award. The award reflects her contributions in treating the disorder as well as advocacy of the Life Participation Approach to Aphasia (LPAA).
The Winifred M. and George P. Pitkin Foundation received the 2019 Mike and Elaine Adler Humanitarian Award for helping to ensure the availability of resources and treatments for those living with aphasia and their care and communication partners.
The Triangle Aphasia Project (TAP) held its benefit on June 20th. The event was hosted by Maura Silverman, TAP's founder and director. Lingraphica's Faye Stillman and Whitney Cobas were present, along with guests Teresa Walls and her daughter Anissa.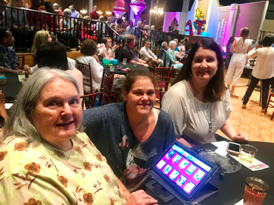 Teresa, who lives with aphasia, brought her Lingraphica speech generating device to the event in order to communicate.
"Mom had a really good time and is looking forward to being involved in TAP and interacting with people who are going through the same kinds of experiences," said Anissa.
Key highlights of the event included: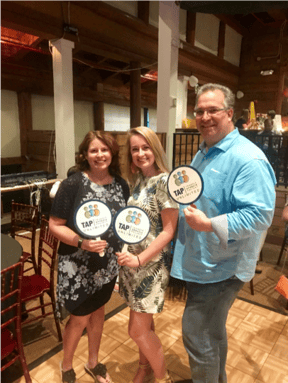 Several awards in recognition of individuals who have shown a dedication to TAP's core values: hope, determination, engagement, and purpose.

North Carolina's Governor Roy Cooper proclaimed June to be "Aphasia Awareness Month" in North Carolina.

The TAPTastics, a group comprised of individuals with aphasia, performed renditions of "You're Sixteen," "Sweet Caroline," and "Happy Birthday."
Aphasia is a challenging and often devastating disorder. By taking the time to recognize the contributions of these groups and individuals, we are reminded how committed the aphasia community at large is to helping those effected to live life to the fullest.