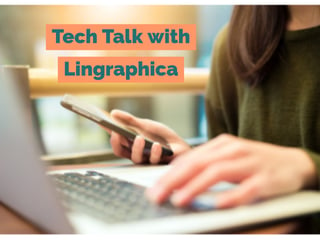 In February, we published a blog post requesting our current customers and potential customers to ask us any questions you may have about our business. This month, we answer some of the most frequently asked questions we received.
The questions keep coming! Over the last few weeks, we've received several more questions related to our apps, devices, and online therapy platforms. Below are our answers to a few of the questions received. Don't see your question below? Don't worry, we'll be posting additional questions and answers in future blog posts.
Questions & Answers
Q1. I downloaded TalkPath Therapy about a week ago, and it worked fine for a few days. Now it won't load—it starts up and then the screen blanks out and just turns white. I deleted the app, and downloaded again, but same thing happened. TalkPath News seems to be OK. Can someone please help me? (Claire, Caregiver)
A. Help is here, Claire! Two weeks ago, our product development team made some updates to TalkPath Therapy. You can learn more about those updates in this blog post, which was featured in last month's newsletter. After the app was updated, we began receiving feedback from users saying the app was not loading on their iPads®, and they saw a white, blank screen each time they opened the app. After doing some digging, our product development team was able to locate the cause of the glitch and released an updated version of the app with the glitch fixed. Anyone who already has TalkPath Therapy downloaded to their iPad should be able to access it now with the new updates. For anyone who would like to download the new version of TalkPath Therapy, click here!

Q2. Our current AllTalk does not have TalkPath Therapy on it. We use the iPad for the TalkPath Therapy. Is it possible to send in the AllTalk to be updated with the most current software version and updates? (Dorothy, Fullerton, CA)
A. Thanks for the question Dorothy. I have good news for you! All of our AllTalk communication devices come equipped with TalkPath Therapy, so you already have access to the updated version. Below are three simple steps, showing how to access TalkPath Therapy on an AllTalk. Be sure your AllTalk is connected to the internet before you try to access TalkPath Therapy, or it will not work. If you run into any issues, our technical support team will be more than happy to assist you. You can reach them by calling 888-274-2742 and asking for technical support.
Step 1: Select the icon on your home page labeled "therapy activities".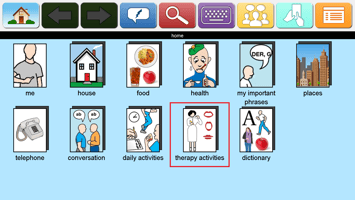 Step 2: Select the icon labeled "TalkPath Therapy".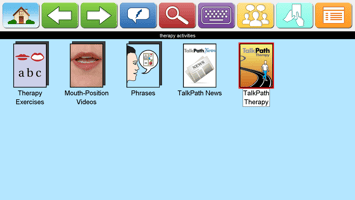 Step 3: You will then be brought to the TalkPath Therapy home page. If you already have an existing account, you can click the "Sign In" button and enter your username and password. After that, you will gain access to the therapy exercises.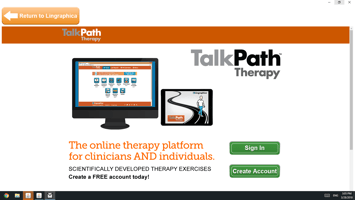 Q3. My wife suffers from a speech disorder called apraxia. Do you have any apps or devices that could help her? (Clint, Denver, CO)
A. Hi, Clint. I'm very sorry to hear about your wife. We do have a few resources that could potentially help her with communication. First, we have an entire page of our website dedicated to providing information about verbal apraxia. If your wife has an iPhone® or iPad®, then our free communication apps would be the perfect resource to help your wife communicate. TalkPath Therapy would also be a great practice tool, where your wife can practice her speech from the comfort of home. Lastly, you could also have her trial our communication devices for free and see if one of them would be a good fit for her.
Have an additional question other than the ones listed above? Fill out the form below and we'll answer your question as soon as we can. We'll also post our answer to your question in a future blog post!