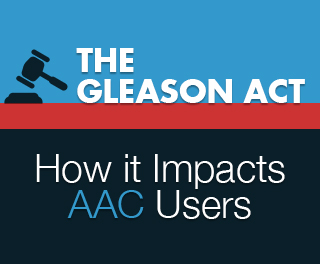 It was an exciting summer for the community of speech-language pathologists (SLPs) and augmentative and alternative communication (AAC) users! In late July, thousands celebrated the passage of The Steve Gleason Act and the implementation of the new national coverage determination (NCD) for speech-generating devices (SGDs). The resolution of both issues means individuals with speech and language disabilities are empowered to communicate with the help of speech-generating technology -- something Lingraphica is VERY excited about! To help clarify what these changes mean, we've outlined the basic information below:
New Definition: With the new NCD, SGDs are allowed to have both our research-backed language system and advanced technology options like email and instant messaging. Lingraphica has added in many new features to our SGDs to accommodate the expanded definition of a "speech-generating device."
Rental to Owned Device: The Steve Gleason Act protects access to medically-necessary SGDs for individuals with speech, language, and communication disabilities, including aphasia, Parkinson's Disease, ALS, and Cerebral Palsy. Specifically, the new law removes SGDs from the Centers for Medicare and Medicaid Services' (CMS) Durable Medical Equipment (DME) payment category as a "Capped Rental," and moves it to the "Frequently Purchased" category. This means Medicare beneficiaries using an SGD own their devices instead of renting it for 13-months. This change became effective on October 1, 2015
Keep it Regardless of Living Situation: Under the "Capped Rental" policy, CMS would end payment on the rental speech device if a patient entered a skilled nursing facility or hospice. The Steve Gleason Act reversed this policy and mandated that CMS move SGDs into the "Frequented Purchased" category. Now, device users own their device and can keep it with them regardless of their living situation.
Coverage of Eye-tracking Technology: The Steve Gleason Action means CMS must provide coverage for eye-tracking technology on SGDs. This technology is important for patients who rely on the use of their eyes to navigate a device.
The passage of The Steve Gleason Act and the finalization of the NCD is a monumental step for Medicare beneficiaries who rely on SGDs to communicate. The reform represents the hard work of many industry partners including SLPs, clinicians, device manufactures, and patients. Lingraphica is pleased to see congressional support for the protection of this advanced technology.
If you have any questions about The Steve Gleason Act or the NCD, please call our team at 888-274-2742
and ask for our reimbursement department.