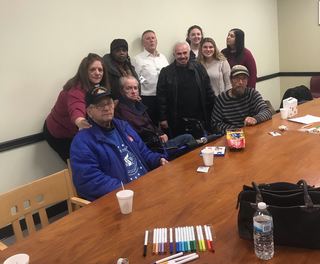 Apraxia and aphasia are communication disorders that can impact an individual's participation in everyday life. These disorders can be devastating for both the person affected as well as his/her family members. Fortunately, there are support groups that guide these individuals and their families through difficulties they may encounter—like the Staten Island Apraxia and Aphasia Support Group.
The Apraxia and Aphasia Support Group is sponsored by Staten Island University Hospital Northwell Health and facilitated by speech-language pathologist, Christina Goodheart, MA, CCC-SLP, BCS-S. This is a diverse group, including men and women living with aphasia and apraxia with their caregivers. In this setting, the members meet and interact with other individuals in a safe and positive way. The group meets once a month as a way to support and engage with others who are living with the same experiences due to their diagnosis.
Every month, the meeting is tailored to the needs of the individuals to practice and enhance their speech, language, and cognition under the support of a speech-language pathologist and eager speech-language pathology graduate students (Danielle Santucci, Erin Alvino, and Elizabeth DiGiovanni) in a fun and exciting way. Members and caregivers receive information that will help them at home and in their community. The group has hosted an attorney to explain wills, living trusts, and healthcare proxies, as well as topics like stress management techniques and chair yoga.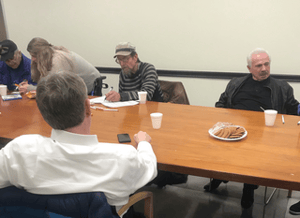 Recently, the group has added social meetings where members meet for dinner at local restaurants to socialize outside of the monthly meetings.
The members of the group want others to know that having a communication disorder shouldn't hinder someone from everyday activities. The members create a judgement-free zone where individuals feel confident to share their experiences and advice, and they work hard to advocate for themselves and to educate the community.
Please contact Christina Goodheart, MA, CCC-SLP, BCS-S, Staten Island University Hospital, with questions or for additional information about the group via email cgoodheart@northwell.edu or by phone at (718) 226-2959.
If your organization or one you attend would like to be spotlighted on Lingraphica's blog, please fill out our Aphasia Group Submission form.