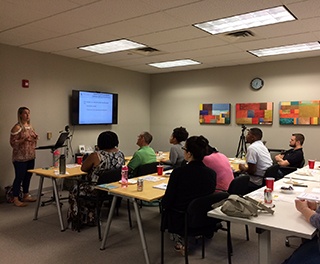 During the month of August, Lingraphica's very own SCA-trained Brianne Kosch, MA, CCC-SLP, ATP, led all staff members through a two-hour workshop on Supported Conversations for Adults with Aphasia (SCA™). Read on to learn more about the staff's education.
Several of our recent blog posts have centered around the topic of Supported Conversations for Adults with Aphasia—the model of communication developed by the Aphasia Institute in Toronto. The idea behind SCA is that people who have aphasia know more than they can say, but they need a little help with understanding the messages from others as well as getting their own messages out to others. The goals of SCA strategies are twofold: 1) to acknowledge the competence of the person with aphasia, and 2) to help him/her reveal and realize that competency. Both of these goals help to build the confidence of the person with aphasia and recognize that his/her life is bigger than aphasia.
Because those who communicate with someone who has aphasia (also known as communication partners) presumably do not have the same communication struggles, they can shoulder the burden of helping the individual receive and communate his/her ideas.
During the training, staff used several techniques for receiving and communicating messages by participating in several role-playing scenarios. The staff paired up for each exercise, taking turns being both the communication partner and the person with aphasia.
When acting as communication partners, staff members would do the following to help the individual receive their message: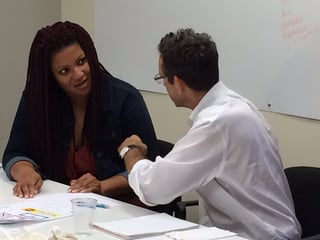 Use black markers on white paper – easy to see

Write keywords only – too many words become confusing

Use legible handwriting

Draw pictures/symbols
Still in the role of communication partners, staffers would do the following to help the person with aphasia communicate their message:
Ask yes/no questions – go from general to specific

Ask one question at a time

Ask person with aphasia to give clues – draw, point, gesture

Encourage them to use pencil and paper, pictographs, or a communication device

Verify the information that comes out – "Let me make sure I understand…"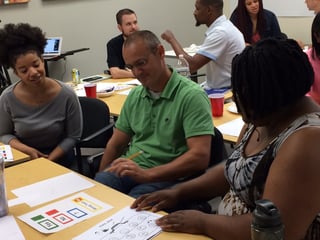 When acting as the person with aphasia, team members couldn't speak, couldn't use their right hands (to simulate the effects of a stroke), and in certain scenarios, were not able to draw or gesture. Actively participating in the role of a person with aphasia gave team members a true appreciation for what actually having aphasia is like.
Every employee of Lingraphica, regardless of his/her role in the company, went through the SCA workshop for two important reasons: to give each team member better insight into the people we serve, and to be better equipped to have a successful conversation and understand wants/needs when we speak to someone with aphasia.
Lingraphica—We're Your Partner for the Journey, and we're 100% SCA-trained!