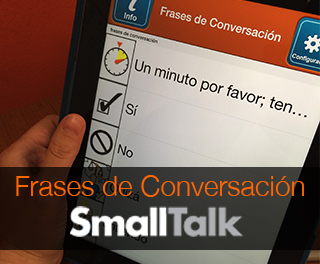 To celebrate the launch of our ALL NEW SmallTalk Frases de Conversación we have a special bilingual blog post! Enjoy today's post in English and in Spanish, and don't forget to download the app!
We have an all-new Spanish app! One of our popular SmallTalk apps, Conversational Phrases, is now available in Spanish.
Designed for individuals with language disorders, this app provides a quick and portable way for those with speech impairments to join every day conversations. Now with our Spanish version, individuals can communicate common words and phrases like, "please," "thank you," and "how are you?" These phrases join dozens of other classic greetings, responses, and requests.
Plus, this app makes it easier to initiate and maintain conversation with others.
You can download SmallTalk Frases de Conversación in the App Store for iPhone and iPad. If you have any questions, please contact our Clinical team at 888-274-2742.

¡Bienvenido a nuestra nueva aplicación! ¡Tenemos un app nuevo en español! Una de nuestras aplicaciones populares de SmallTalk, Conversational Phrases, ahora está disponible en español. Diseñado para las personas con trastornos de la lengua, esta aplicación provee una manera rápida y portátil para aquellos con trastornos de la lengua unirse a conversaciones de cada día. Ahora con nuestra versión en español, individuos pueden comunicar palabras y frases típicos como, "por favor," "gracias," y "¿cómo estás?" Estas frases reúnen docenas de otros saludos, respuestas y solicitudes clásicos.
Esta aplicación hace más fácil de iniciar y mantener las conversaciones con otros.
Usted puede descargar SmallTalk Frases de Conversación en el App Store para iPhone y iPad. Si usted tiene preguntas, por favor póngase en contacto con nuestro Equipo Clínico, del número 888-274-2742.