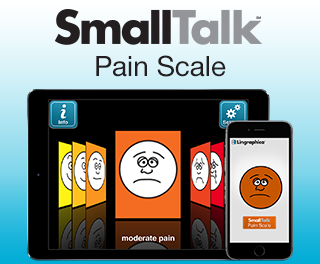 This is a series of blogs that will feature our free SmallTalk apps available for the iPad®, iPhone® and iPod touch® on the App Store®. At Lingraphica, we understand that a communication device may not be a good fit for everyone. This is why we offer a number of products, services and apps for free! We want to be a resource for anyone working hard to improve a speech or cognitive impairment.
This month we explore SmallTalk Pain Scale.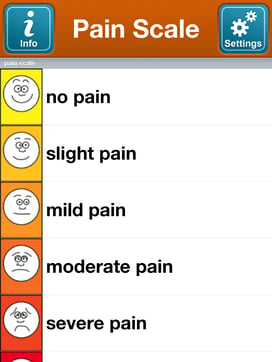 After a stroke, visits to a specialist's office become routine. Whether the visit is with a physician, physical therapist, or speech therapist, you will need to answer questions about your recovery. They may ask: "Are you experiencing pain anywhere?" or "How bad is your pain?" Someone with aphasia or another communication disorder may not be able to respond, or if he/she can respond, it may not be the correct information. If the person in pain gives incorrect information, he or she could face serious health consequences if the issue goes untreated. Lingraphica understands that stroke survivors need a way to broadcast that they are in pain and be able to describe the pain. That's why we created the SmallTalk Pain Scale app.
The SmallTalk Pain Scale app allows users to describe their pain level, the type of pain they're experiencing, and the location of the pain. Each icon projects an audible, human-like voice that repeats the text on the icons. Each icon has a descriptive image, making them easy to find quickly.
The pain levels rank from "No Pain" to "Worst Pain Possible" with accompanying faces and colors. The full pain scale ranks as follows:
No Pain
Slight Pain
Mild Pain
Moderate Pain
Severe Pain
Worst Pain Possible
SmallTalk Pain Scale is easy to use and a great tool for anyone who has aphasia or other communication disorders. Download the app to your iPad or iPhone for free today!
To learn more about our other free communication apps, click below.