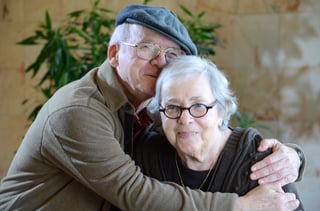 This year started off on a somber note for our Lingraphica family. Last week, we learned that another one of our User Group members, Nancy Mamis-King, had passed away. She was 84 years old. Nancy attended User Group meetings for more than 10 years and was one of the founding members of the group. She passed away peacefully surrounded by friends and family.
Nancy dedicated her life to fighting for equality and justice. If there was a politcal rally or a group of people that were in need, it was a safe bet Nancy was there. She was a member of various organizations which helped thousands of people of all different backgrounds around the world. She was a co-founder of the Beyond Diversity Research Center, whose mission is to eliminate all forms of oppression from society through anti-discrimination training workshops. In recent years, Nancy was very involved in an organization called Love 146, whose mission is to end child trafficking and exploitation. Below is a list of other organizations which Nancy was either a part of or helped to start:
Neighborhood Youth Services

Various community outreach programs
Nancy's compassion for others didn't stop at the organization level. Nancy raised three children with her first husband, Justin, and helped raise another four when she met her second and current husband, John. Seven children would be enough for most couples; however, this wasn't the case for John and Nancy, who adopted an eighth child named Douglas. Douglas was involved in a New York street gang and had no home or family. With Nancy's compassion and care, Douglas went on to graduate from Harvard University and went on to work for The New York Times. He now works as a free lance journalist.
Some of the User Group members shared their favorite memories of Nancy:
Betsy: "Everything she did made sense after I got to know her at User Group. I could see her doing all those things. Her passion for social justice was infectious."
Ray: "She was an amazing lady and an inspiration to the group."
Irene: "She was friendly and easy to talk to. She conquered aphasia and was very vocal with the group."
Ed: "You could see her passion whenever she talked about the Boston Red Sox. She was Massachusetts' biggest fan."
Even after suffering a stroke in 2002, Nancy's passion and drive never waivered. She developed severe aphasia after her stroke rendering her unable to say anything for the first few months and was confined to a wheelchair. Nancy never let this stop her from living her life, and with many months of practicing and speech therapy, Nancy was able to regain her speech. "No plateau here" and "never give up" were two mottos Nancy lived by after her stroke. She shared these mottos with other stroke survivors who were frustrated with their aphasia.
To say that Nancy was a passionate person is an understatement. She was an inspiration and role model to so many people and touched the lives of many more. She will be dearly missed.