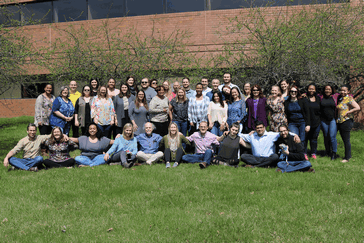 For the employees at Lingraphica, what we do is more than "just a job," and we do it for more than the paycheck. Check out our Lingraphica Culture video to find out a bit more about the people behind everything that goes into providing clients with great customer service and high-quality products.
Perhaps you've been a client or fan of Lingraphica for a long time. Perhaps you are relatively new to us. Either way, we've been asked on many occasions from old and new friends about the staff--who we are, what we do, and why we want to work for Lingraphica. Here's a brief snap shot of the people "behind the scenes" who play a vital role in all we do.
We are a dedicated group of people with one main driving force in each work day: to make communication a little easier, a little better, a little more successful in the lives of our clients and their loved ones. We are clinical consultants who introduce and educate speech-language pathologists about our technologies. We are client advocates who work with insurance companies and answer customer questions. We are software engineers who create the technology that makes our devices and apps work. We are billing and reimbursement specialists, marketers, continuing education specialists, business leaders, scientists, and patient navigators. But regardless of how different our individual roles might be from one another, we all do whatever it takes to ensure the people who choose Lingraphica for their communication needs get a high-quality product and superb customer service and support.
When asked about what they liked most about working at Lingraphica, a few of the employees responded this way:
I like being surrounded, supported, and stimulated by my talented, well-trained, productive, and committed co-workers as we collaborate to provide solutions to the many frustrating issues faced by persons with aphasia and their communication partners.

I've never worked for another company whose employees are ALL so willing to try new things, happily roll up their sleeves to get a job done, and work together for the benefit of others. It's an inspiring, uplifting place to work!

It's completely fulfilling to take a hesitant patient and bring them to trial, and see before one's eyes their entire communication world reopening...it doesn't get much better than being a witness to that.

It's a perfect work/life balance!

I like the give-and-take aspect of leadership: if you have a sound idea, they encourage you to bring it to fruition. That is pretty cool.

I love working at Lingraphica because we share a genuine spirit of innovation, collaboration, and a commitment to our client-based mission.
As for a few other employees' thoughts on Lingraphica, they agreed to take part in a Lingraphica Culture video. Check out their thoughtful, honest, and sometimes fun responses below.
As you can see, one of the keys to Lingraphica's success is the quality of our people, and the authentic desire to help others in need. If you know any dedicated, enthusiastic people who want to make a difference in the world and might be interested in working for Lingraphica, feel free to share this post and encourage them to send in their resumes!