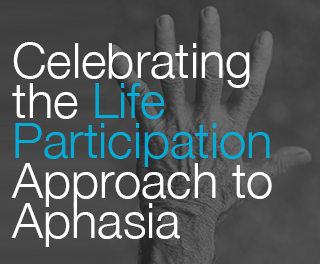 This week, several members of our team are joining hundreds of thought leaders, speech-language pathologists, and aphasia advocates in Boston for the first inaugural AphasiaAccess Leadership Summit. Together, we will celebrate the committed clinicians and partners who champion the life participation approach to aphasia (LPAA) treatment while also sharing the latest research for individuals with aphasia.
The LPAA encourages clinicians and researchers to focus on the real-life goals of individuals with aphasia. For example, in the initial stage following a stroke or brain injury, a common goal may be to establish effective communication with the surrounding medical staff. At a later stage, a life goal may be to communicate with loved ones or participate in the local community.
The LPAA embodies the principle of hope: hope for improvement; hope for reconnection with loved ones; hope for independent communication, and that's a principle we're pleased to support with a line of research-backed products. In fact, for more than 30 years we've partnered with the brightest minds in the aphasia community to bring products and solutions that offer hope for improvement. By teaming up with AphasiaAccess, we're pleased to further advance the field and raise awareness of the communication disorder that impacts more than one million people.
Our team will be sharing the latest aphasia research in multiple areas during Friday and Saturday's poster sessions.
Friday, March 13
Combining LPAA Center Activity With Teletherapy & Online Language Exercises For Expanded Engagement, Improved Outcomes and High User Satisfaction
Presenter: Richard Steele, PhD, and Denise McCall, MA, CCC-SLP
Envisioning A Virtual Aphasia Center
Presenter: Denise McCall, MA, CCC-SLP, and Richard Steele, PhD
Saturday, March 14
Studying Communication: A Program Using Support Systems To Improve Quality Of Life For People With Aphasia In Long Term Care Facilities
Presenter: Lisa Haynes, MS, CCC-SLP
If you would like more information about our presentations, please contact us at info@lingraphica.com.