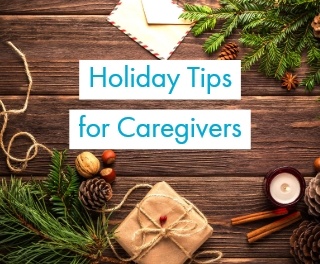 It's true that the holidays can be really tough for those with aphasia. So much activity, noise, interactions...it can be truly overwhelming. But caregivers can become overwhelmed as well. Read on to find out how you can cope with the stress of the holidays while still fulfilling your role as caregiver.
The holidays can make caregiving even more stressful than usual with the additional pressures that come with this time of year—gift-buying, dinners and parties, trying to fit more into the same 24 hours each day. With those things in mind, coupled with your everyday caregiving responsibilities, here are a few tips to help you not only cope, but hopefully enjoy the holiday season.
Tips for Caregivers at the Holidays
1. Whenever a free moment presents itself, take time to do something just for you. Whether it's to watch a 30-minute TV show or take a bubble bath, remember that it is important to nurture your needs as well.
2. If you find the added tasks of holiday baking, cooking, shopping, decorating, and parties to be more than you can physically do yourself, ask someone for help. Family and friends understand that you have a lot on your plate. Most people will be happy to run an errand or bring an extra food item to your neighbor's party. Chances are, they need to do the same thing, and picking up an item or dropping off a gift is not out of their way.
3. Let go of perfectionism. Know that your family and friends care more about seeing you than seeing how "perfect" or clean your home is. Your presence is what is most important this season.
4. If you find yourself becoming overwhelmed, take a few minutes to meditate, pray, or relax. You can find free apps on smartphones that help you to do some deep breathing or just clear your mind. Set an alert in your phone to do this once or twice a day if that's helpful.
5. Know that you are doing the best you can...and that is enough. Caregiving is not an easy role to fulfill. Caregiving at the holidays is even harder. Give yourself some credit for the job you do, and above all else, enjoy your holidays. You owe it to yourself and your loved one.
Best wishes for a warm and wonderful holiday from your friends at Lingraphica!
For more information on caregiving, download our free Caregiver eBook.
*Tips adapted from "No time to be Merry? 'Tis the Season to Encourage Care for Caregivers," by Lisa Milliken, MA, CCC-SLP, FNAP, Intersections e-Newsletter, American Speech-Language-Hearing Association, 2018.