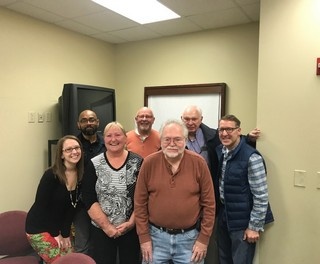 Dealing with aphasia can be a long, hard road for many. Thankfully, there are organizations dedicated to helping and supporting that journey. Meet the Fredericksburg Area Support Group in Virginia and the services it provides to people who have aphasia.
The Fredericksburg Aphasia Support Group is sponsored by Mary Washington Hospital (MWH) and facilitated by Molly Gentry, a speech-language pathologist at the hospital. The group provides a safe space for communication and comradery for people with aphasia. While many of the group members have aphasia because of a stroke, some members have other diagnoses such as traumatic brain injury or dementia.
The group recently added more education to the meetings to benefit members as well as the community. Lieutenant Kuebler from the Fredericksburg Police Department provided a presentation to the group regarding community safety and extra precautions for people with aphasia in case of emergency.
Group member Eileen Thompson said, "Education for the public is so important. Most people don't even know what aphasia is."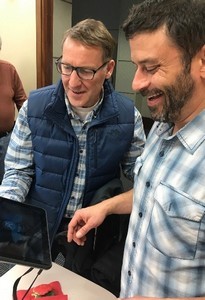 After the meeting with Lt. Kuebler, the group made plans to provide additional education for other members of the local Police Department regarding communication impairments.
While some of the group's meetings are informative, some are just a time to be around other people with similar life experiences.
"This group has got me talking. It has taught me that everyone has a problem, but my problem is not like theirs," group member Victor Jurek said, while joking with other group members. Providing a judgment-free, productive environment continues to be the most important part of this particular aphasia group.
Feel free to contact Molly Gentry, MA CCC-SLP, Mary Washington Healthcare, with questions or for more information about the group via email at molly.gentry@mwhc.com or by phone at 540-741-1416.
If your organization or one you attend would like to be spotlighted on Lingraphica's blog, please fill out our Aphasia Group Submission form.