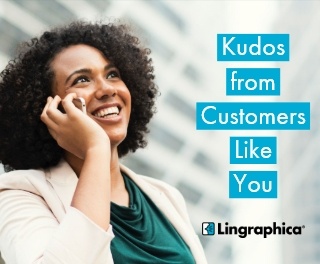 We receive feedback from customers who use our apps, online therapy, and devices every day. Here are a few testimonials from people like you about their experience with Lingraphica.
Customer Kudos from October
"My wife was a little nervous at first. After a couple of days playing with the machine and then the therapist stepped in, and she learned a lot. When we sent the trial device back, she really got upset. We were told 2 to 6 weeks to get her new machine, and she really started getting depressed. I called your office and I cannot tell you all how blessed we were to receive her new machine in 5 days. My wife has not set the TouchTalk down. We are so fortunate to have found your company. We have plans to show this device to a group that we belong to (Scottish Rite). I will follow up on this at a later time, when the wife gets super proficient on her TouchTalk. We have been blessed getting involved with your Organization. Thank you ever so much." — Caregiver of a TouchTalk Owner, 10/27/18
"The person I spoke with was very patient and knowledgeable. She helped me with my problem and made sure I could use the Lingraphica device before we hung up." — TalkPath Therapy User who Completed a Live Chat Session, 10/19/18
"It is a fantastic tool/aid for communication, user-friendly, and versatile." — Caregiver of a TouchTalk Owner, 10/17/18
"Demonstrable improvement after just a short period of time." — TalkPath Therapy Web User, 10/15/18
"Ease of use and the excellent speech therapist that trained my brother on it. My brother has aphasia since his CVA in 2015. This device has given him back his voice. Communication is easier now." — Caregiver of a TouchTalk Owner, 10/15/18
"Lingraphica is helping me improve my speech and writing after stroke causing aphasia." — TalkPath Therapy Web User, 10/12/18
"Very prompt, courteous, professional staff." — Caregiver of a TouchTalk Owner, 10/11/18
"Because it does almost everything for you. Thanks." — Caregiver of a MiniTalk Owner, 10/11/18
"It is amazing to see my husband working on his device. He loves it! It helps him select his food for his meals, tells people who he is and where he came from etc. It is a blessing that we are able to have one." — Caregiver of a TouchTalk Owner, 10/4/18
"It is an absolute device that aids an extremely difficult situation. I am not aware of any other device like it." — Owner of a TouchTalk, 10/2/18
"It is a very user-orientated, and it is free, giving people who suffer with aphasia an opportunity to feel they are part of something." — TalkPath Therapy Web User, 10/2/18
--------------------
If you've had a great experience with one of our apps or a device, we'd love to hear from you! In fact, if you have a story you'd like to tell about the progress you or your loved one has made with the help of one of Lingraphica's products, we want to share it! Just click the button below to fill out a short form, and someone from our marketing department will contact you to get all the exciting details. Your story may give someone else like you HOPE...please share it!