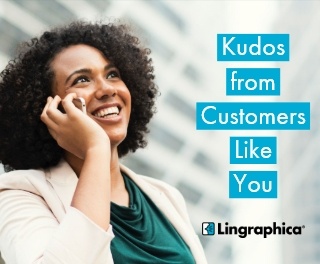 We receive feedback from customers who use our apps, online therapy, and devices every day. Here are a few testimonials from people like you about their experience with Lingraphica.
Customer Kudos from November
"Paola greeted my husband by name. She explained why she needed all of our insurance information before contacting Carmen. She confirmed that the info we gave her was correct. She was patient and interested in answering our questions. She promised follow-up email and to be available in the future if needed." — Caregiver of a Person with Aphasia in a Device Trial, 11/20/18
"The representative was cheerful, answered my questions thoroughly. I didn't feel rushed or pressured in any way. I also appreciated her optimistic but realistic appraisal of insurance coverage unknowns. I learned a lot and felt supported around the recovery process partners who've had strokes. Unexpected." — Caregiver of a Person with Aphasia Considering a Device Trial, 11/20/18
"This program has helped my husband to be able to communicate with others, where as without it he would be at a standstill, as when he first had his stroke. It is the most wonderful program for people who have had a stroke. Thanks to his speech therapists who made this to happen and thanks to Lingraphica for this program and continued help with adding different phases for him to further his communication." — Caregiver of a Device Owner, 11/13/18
"Lingraphica gives a way of communication, and for that I am grateful." — Owner of a TouchTalk, 11/13/18
"The professionalism of the people who work for the company, as well as their caring attitude and approach to the client. Also…everyone associated with the company is completely committed to doing all that they can do to make sure that one feels like a real asset to the company and not just another customer. I loved working with everyone involved with my case! Thank you for the opportunity to say that!!!" — Owner of a MiniTalk, 11/10/18
"My husband got the Lingraphica just recently, and he is getting familiar with it. The lady that I talked to was very friendly and explained all the procedures very well. If we have any concerns on how to get the most of it, I won't hesitate to call them for help." — Owner of a TouchTalk, 11/8/18
"Pleasant and helpful truly on point. Thanks to your company and service." — Caregiver of a TouchTalk Owner, 11/8/18
"The communication has been excellent." — Caregiver of a Person with Aphasia in a Device Trial, 11/6/18
"I am also low vision, and your company's characters are the easiest to see." — Owner of a TouchTalk, 11/2/18
"Excellent product with caring helpful customer service. You rarely get that anymore. It was so appreciated..." — Caregiver of a TouchTalk Owner, 11/2/18
--------------------

If you've had a great experience with one of our apps or a device, we'd love to hear from you! In fact, if you have a story you'd like to tell about the progress you or your loved one has made with the help of one of Lingraphica's products, we want to share it! Just click the button below to fill out a short form, and someone from our marketing department will contact you to get all the exciting details. Your story may give someone else like you HOPE...please share it!