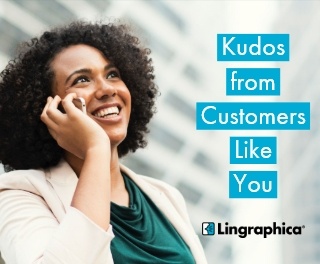 We receive feedback from customers who use our apps, online therapy, and devices every day. Here are a few testimonials from people like you about their experience with Lingraphica.
Customer Kudos from March
"[My wife] enjoys working on the new device and does not get frustrated when she does. She will work on it 30 to 45 minutes each time. Loves it because it talks to her and has her information on it also. Thank you very much!!!" – Caregiver of a TouchTalk Owner, 3/4/19
"The representative was able to work out everything I needed and an estimated time of delivery. [Device] was delivered on time." – Caregiver of an AllTalk Owner, 3/7/19
"Excellent help with financing and getting the product to us quickly." – Caregiver of a TouchTalk Owner, 3/12/19
"Ease of use. Great customer service. All around wonderful company." – Caregiver of a TouchTalk Owner, 3/12/19
"Justina was kind and patient and took care of the problem quickly. She even offered to call us back when the problem was resolved, so there was no need for us to tie up our phone line. Everyone at Lingraphica is great. Thanks so much."
– Caregiver of a MiniTalk Owner, 3/14/19
"I can't thank you enough for all of the assistance your company and employees provided." – Caregiver of a TouchTalk Owner, 3/14/19
"Walked me through exactly how to make the setting change we needed in just a couple of minutes." – Caregiver of a Device Owner, 3/15/19
"Paola was very helpful and compassionate. She was able to give me a good understanding of your products and how they can help my mom. She also explained the process of how to get a trial of your products." – Caregiver who called for Device Information, 3/19/19
--------------------

If you've had a great experience with one of our apps or a device, we'd love to hear from you! In fact, if you have a story you'd like to tell about the progress you or your loved one has made with the help of one of Lingraphica's products, we want to share it! Just click the button below to fill out a short form, and someone from our marketing department will contact you to get all the exciting details. Your story may give someone else like you HOPE...please share it!