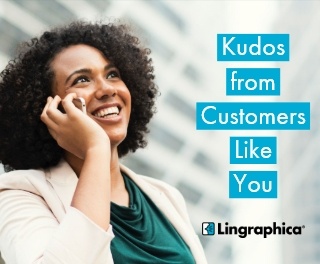 We receive feedback from customers who use our apps, online therapy, and devices every day. Here are a few testimonials from people like you about their experience with Lingraphica.
Customer Kudos from August and September
"Functional, easy to individualize, and good support." — Caregiver of a TouchTalk Owner, 9/3/18
"The staff member I spoke to was amazing! The original doctor was out if the office, I asked that the information be faxed to my husband's general practitioner. It was done immediately, and the item was approved. There was a follow-up call, and the item is now in hand!" — Caregiver of a TouchTalk Owner, 9/3/18
"It's just a wonderful program, and it is free." — TalkPath Therapy Web User, 9/2/18
"I like your efficiency and professionalism." — Caregiver of TouchTalk Owner, 8/30/18
"Complete support from Justina in tech department. Great job!" — Person with aphasia in Device Trial, 8/24/18
"It was clear and well presented. For those who are aphasic, this device is a huge assistance." — Attendee of ACE Webinar, 8/22/18
"It has been very helpful for my husband who suffered a stroke 10 years ago as well as helpful for me trying to understand what my husband wants to get across to me. The different activities are also practical. Thank you." — Caregiver of person in Device Trial, 8/21/18
"The customer service person who reached out to help us acquire this wonderful device was great." — TouchTalk Owner, 8/21/18
"[The device trainer] was so very nice. Did a great job!!!" — Caregiver of a TouchTalk Owner, 8/19/18
"Este dispositivo ha ayudado a mi esposo a pronunciar palabras que antes no podía decir. Ahora sé exactamente lo que quiere desayunar. Ha sido genial. ¡También puede decir frases cortas!" Translation: "This device has helped my husband to pronounce words that previously he could not say. Now I know exactly what he wants to have for breakfast. It's been great. He can also say short phrases!" — Caregiver of a Spanish Device Owner, 8/16/18
"It gives me a chance to work on my skills whenever I have the time at home." — TalkPath Therapy Web User, 8/15/18
--------------------
If you've had a great experience with one of our apps or a device, we'd love to hear from you! In fact, if you have a story you'd like to tell about the progress you or your loved one has made with the help of one of Lingraphica's products, we want to share it! Just click the button below to fill out a short form, and someone from our marketing department will contact you to get all the exciting details. Your story may give someone else like you HOPE...please share it!