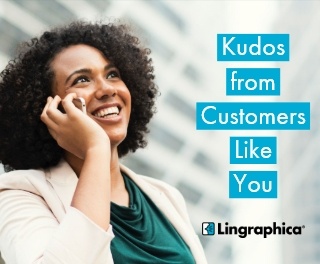 We receive feedback from customers who use our apps, online therapy, and devices every day. Here are a few testimonials from people like you about their experience with Lingraphica.
Customer Kudos from April
"Nina was so helpful. The device got mailed out very quickly! We thank all of you so much." – Caregiver of a TouchTalk Owner, 4/22/19
"Tim was both personable and very helpful. He walked me through each step clearly. Thanks!" – Caregiver who called for Tech Support, 4/19/19
"This is the best communication device to assist someone with a speech impairment. Its communication potential is unlimited." – Caregiver of a TouchTalk Owner, 4/18/19
"The device is very easy to navigate. I love this device because it gives my aunt [a way to communicate] with people, and [seeing] the smile on her face…knowing that she is able to express how she feels makes me feel good." – Caregiver of a TouchTalk Owner, 4/17/19
"Genuine concern in the voice of whoever helped me and an immediate plan to fix it. My new charging cable appeared promptly. Thank you." – Caregiver who called for Tech Support, 4/11/19
"Great customer service! Easy and quick to communicate with, very helpful!!" – Caregiver who called for Tech Support, 4/8/19
"Stefan was very professional and talked to my sister and I on the speaker phone since my mom can't speak well. I was also very hard to get a hold of and [he] kept trying to get a hold of me. No problems and you worked with the three-hour time difference." – Caregiver of a Device Owner, 4/6/19
"Every step of the process was explained to me in detail and what I needed to do on my end in order for the process to move forward. I thank Carmen for explaining everything to me in great detail." – Caregiver seeking to start a Device Trial, 4/5/19
"TalkPath Therapy: So easy to use. Such a variety of things one can work on with their speech problem." – Person with Aphasia who uses TalkPath Therapy, 4/1/19
--------------------
If you've had a great experience with one of our apps or a device, we'd love to hear from you! In fact, if you have a story you'd like to tell about the progress you or your loved one has made with the help of one of Lingraphica's products, we want to share it! Just click the button below to fill out a short form, and someone from our marketing department will contact you to get all the exciting details. Your story may give someone else like you HOPE...please share it!