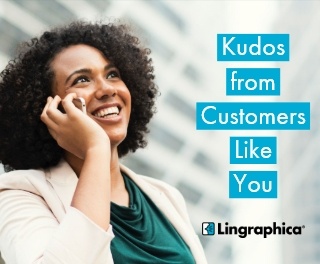 We receive feedback from customers who use our apps, online therapy, and devices every day. Here are a few testimonials from people like you about their experience with Lingraphica.
Customer Kudos from July and August
"This has been excellent help for my wife who is recovering from a stroke." – Caregiver of TalkPath Therapy Web User, 8/8/18
"It has been great for my son in so many ways. Thanks, keep up the good work." – Caregiver of a TouchTalk Owner, 8/6/18
"It has changed my son's life, exposing him to new vocabulary and complete sentences. It has also given him a chance to communicate with others who were unable to understand his speech." – Caregiver of a TouchTalk Owner, 8/4/18
"I can't believe how awesome this device is. It's amazing how much it's helping her (his wife). I am so happy we came across you guys. This device is a godsend." – Caregiver of Device Owner, 8/1/18
"Brianne was very nice and helpful to a customer that is not very good with computers and following directions. She was right there at every step, telling me what to do and how to do it." – Caregiver of an AllTalk Owner, 7/31/18
"Johanna was absolutely wonderful to work with. She was always able to help and answer all my questions. This device will do and is doing wonders for my friend." – Communication Partner of TouchTalk Owner, 7/29/18
"This device is all they said. It opens a new world for those who have problems with expressing themselves through communications." – Owner of a TouchTalk, 7/28/18
"Thank you for being here for me. This device will make it easier for me to communicate with others." – Person with Aphasia in Device Trial, 7/27/18
"Friendly communication with Carmen. She reaches out via phone and email. Carmen is extremely helpful in a very difficult situation." – Caregiver of a Person in Device Trial, 7/25/18
--------------------
If you've had a great experience with one of our apps or a device, we'd love to hear from you! In fact, if you have a story you'd like to tell about the progress you or your loved one has made with the help of one of Lingraphica's products, we want to share it! Just click the button below to fill out a short form, and someone from our marketing department will contact you to get all the exciting details. Your story may give someone else like you HOPE...please share it!