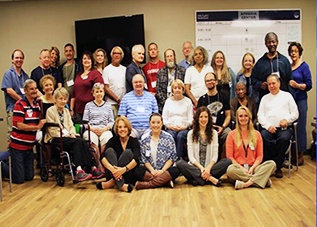 Dealing with aphasia can be a long, hard road for many. Thankfully, there are organizations dedicated to helping and supporting that journey. Meet Brooks Rehabilitation Aphasia Center and the services it provides to people who have aphasia.
Brooks Rehabilitation is a non-profit organization in Jacksonville, FL, that operates one of the nation's largest inpatient rehabilitation hospitals in the US. As one of the region's largest home healthcare agencies, it has 160 beds, 29 outpatient rehabilitation clinics, a skilled nursing unit dedicated to orthopedic rehabilitation, a rehabilitation medicine physician practice, and a campus designed for senior services with skilled nursing, assisted living, and memory care.
Brooks Rehabilitation Aphasia Center (BRAC)--a division of Brooks Rehabilitation--just celebrated its one-year anniversary with over 35 members with aphasia, friends, volunteers, family members, speech pathologists, and students. The aphasia center has helped meet a need in Jacksonville and the surrounding area for people with aphasia. Through the generosity of Brooks Rehabilitation Hospital management team, the center opened after four employees submitted their "dream" of creating a center to help those with aphasia in a crowd-sourcing contest. The employees presented the idea to a group of over 120 managers and won the most votes in 2014; the center opened its doors in March 2016. BRAC is one of the only freestanding, full-service aphasia programs in Northeast Florida that help those with aphasia to re-engage in life and conversation by offering both a community and intensive program under one roof.
BRAC's mission is to provide comprehensive support to persons with aphasia and their families. Their program offers both a life participation-based community program and an intensive, comprehensive six-week aphasia program. Support groups, supported communication training for communication partners, and family education are also available.
BRAC's community aphasia program provides coordinated group activities focusing on the life participation approach to aphasia. The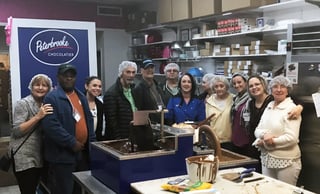 program runs four days a week from 9 a.m. to 2 p.m. Some of the groups include: gardening groups, conversation corner, book and movie clubs, computer and "tech" talk groups, and communication partner training. The center also has art, poetry, writing, pet therapy, and chair yoga groups. Members attend monthly outings to restaurants, museums, coffee shops, chocolate tours (pictured to the right), movies, and community advocacy events. Licensed speech-language pathologists and highly-trained graduate speech pathology students facilitate each of the groups. Members chose the topics for the groups, which are designed to improve and facilitate communication skills of persons living with aphasia, increase their self-confidence, and provide them with support and friendship from others living with aphasia and a passionate, well-trained team.
Brooks Rehabilitation Aphasia Center also offers a six-week intensive comprehensive aphasia program that incorporates a matrix of individual and group activities to improve communication skills, personal goals, and re-engagement in life. For more information, visit BRAC at www.brooksrehab.org/aphasia or call (904) 345-6780.
If your organization or one you attend would like to be spotlighted on Lingraphica's blog, please fill out our Aphasia Group Submission form.