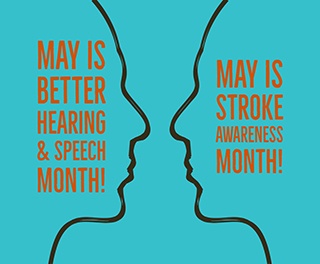 May is Better Hearing & Speech Month, and it's also Stroke Awareness Month! Read on for a few facts, resources, and ways we can raise awareness together!
May is a double-duty month here at Lingraphica, as we seek to celebrate Better Hearing & Speech Month, championed by the American Speech-Language-Hearing Association (ASHA), and also raise awareness of stroke.
Better heari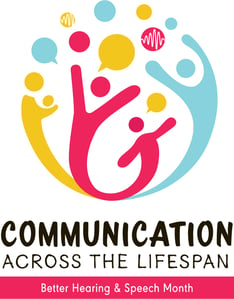 ng and speech can mean different things to different people. For some, it means taking a break from electronic screens to really listen and communicate face-to-face with friends and family. For others, it means making genuine connections with others through the written or spoken word. And still for others, like us at Lingraphica, it means delivering ways to communicate—like free apps or a free trial of a speech-generating device—to those who need a little help due to stroke, aphasia, or other communication disorders.
Stroke, which is caused when a blood vessel carrying oxygen to the brain is blocked or bursts, is the 5th leading cause of death in the United States and a leading cause of disability. The American Stroke Association provides great information on its website about prevention, what to do in the event of a stroke, and how to live life after a stroke. A stroke can occur to anyone at anytime, and the incidence of stroke in young people (ages 18-54) is on the rise. A quick medical response when a stroke occurs is one of the keys to reducing brain damage and increasing the chances of a strong recovery. Be sure you know the FAST warning signs of a stroke:
Face drooping
Arm weakness
Speech difficulty
Time to call 911
In honor of these two month-long events, Lingraphica will share Better Hearing & Speech Month and stroke awareness posts on Facebook during the month of May. We'll also be sharing some important tips and stories about stroke during the month. And...we want to hear from YOU! Be sure to reply to our Facebook posts about what "better hearing and speech" means to you.
You can help spread awareness, too! Simply share our posts on your own Facebook page or comment on ours. Creating a dialogue about these important topics is vitally important--especially when it can save someone's life.
Whether you are a follower of Lingraphica's Facebook page or have never visited, we encourage you to join the conversation around better hearing and speech, as well as stroke. We'll be using the hashtags #BHSM and #StrokeAwareness in many of our posts...feel free to do the same with your own.