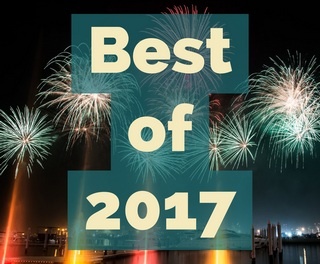 Happy New Year! We're excited to see what 2018 has in store for Lingraphica and our friends. But before we look ahead to the new year, let's take a look back at 2017. We've put together a list of the top five most popular blog posts from the year, based on total views and clicks. Keep reading to see which posts made the list!
Last year was a record-breaker for Lingraphica in terms of blog posts. We published a total of 124 blog entries to our website and out of those 124 posts, five were clear favorites for our readers. Below are brief summaries of each blog along with a link to read each entry in full. Want to know when a new blog gets published? Subscribe to our blog to receive notifications when new posts are published. We look forward to creating new content for 2018 so stay tuned!
---
#5 Blog of 2017
Success Story: Rosanne Knapp Takes on Aphasia with a TouchTalk
Two years ago, Rosanne Knapp had a stroke at age 64. With the help of a device from Lingraphica, a loving husband, and a determined speech-language pathologist, she's learning to communicate again. Here is her story.
---
#4 Blog of 2017
We are incredibly excited to announce the launch of our brand new website and educational program designed specifically to help you learn more about how to use our communication devices. Lingraphica proudly introduces ACE – a program designed to help you Achieve Communication Excellence.
---
#3 Blog of 2017
Four Myths about Aphasia: BUSTED!
The popular Discovery Channel television show,
Mythbusters
set out to prove and disprove common myths. During the show's 13-year run, the hosts have tested plenty of popular myths! Since the show has come to an end without debunking the myths around aphasia, we will gladly take on that task to dispel some of the most common myths about this common language disorder.
---
#2 Blog of 2017
Success Story: Jo Free Communicates 15 Years Post-Stroke
Fifteen years after a massive stroke left her with severe aphasia, Jo Free, at 82, found "freedom" with a device from Lingraphica. Here is her remarkable story of determination and discipline.
---
#1 Blog of 2017
12 Tips for Successful Communication with a Person Who Has Aphasia
Whether you are a person with aphasia or a loved one/friend, communicating when aphasia is in the mix can be effortful, challenging, and frustrating for all parties involved. Read on to learn about 12 helpful tips to better communication.