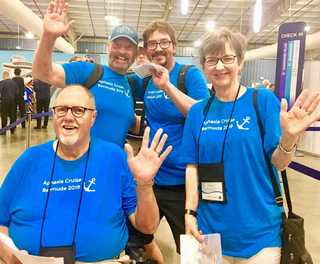 A stroke resulting in aphasia can take many things away from an individual, including the ability to travel. Not being able to do the things one loves can often lead to a person with aphasia becoming isolated and depressed. What better way to re-engage in life then going on a cruise with a group of individuals who share their experiences, challenges, and aspirations? From June 1-6, 2019, 89 people with aphasia, caregivers, and speech-language pathologists (SLPs) set sail on an Aphasia Recovery Connection (ARC) cruise from New Jersey to Bermuda to connect with one another. Read on to find out about these cruises and the experiences of the attendees.
The Aphasia Recovery Connection is a non-profit organization that was created by a young stroke survivor, David Dow and his mother, Carol Dow Richards. ARC began as a small Facebook Group, but now has over 8,000 members worldwide. In addition to online support and activity groups, ARC hosts two to three aphasia cruises each year.
Speech-Language Pathologists and Sessions Onboard
SLPs attend every ARC cruise and provide education and support to people who have aphasia and their families. The SLPs who participate are volunteers and aphasia specialists. They provide information sessions on topics such as technology for aphasia, intensive aphasia treatment programs, supported conversation techniques and strategies, and much more.
The ARC Leadership team plans a variety of educational sessions and fun activities for the cruisers to participate in. The SLPs support the people with aphasia and help them to engage in various activities including board/card games, scavenger hunts, karaoke, dancing, meet-ups around the ships, morning group walks, bingo, putt putt, land excursions, and new cruiser and past cruiser get-togethers.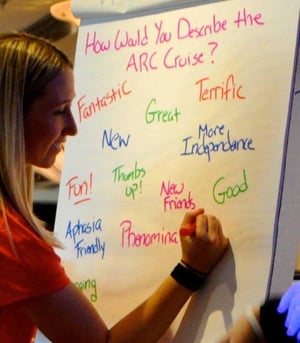 In addition to sessions presented by SLPs, some people with aphasia present on topics of their choice. On the June 2019 cruise, Robert Beggs presented on "One-handed Wonders," which featured different tools that are designed for people who cannot use both hands. Alexis Silvia shared the strategies she uses to help her with day-to-day communication.
Life Participation Approach to Aphasia (LPAA) Activities
The Life Participation Approach to Aphasia (LPAA) is a person-focused service approach that aims to enhance participation in relevant life roles and activities, enhance quality of life with aphasia/living successfully, and promote life changes that are meaningful to the individual (and family). ARC aphasia cruises fully embrace the LPAA model by focusing on helping people with aphasia get out and start enjoying their lives again. While on these cruises, people with aphasia see that there is still so much life to live; they can still make new friends, learn new skills, and most importantly, have fun.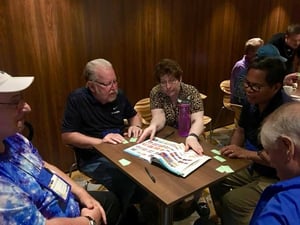 Many attendees enjoyed the following LPAA activities on this cruise:
Going on excursions at the port (bus tours, boat tours, beach trips, shopping)
Riding the bumper cars
Dancing at the night club
Having conversation at dinner
Having a drink by the pool with a new friend
Going to see a show on the ship with fellow cruisers
Participating in karaoke
Reactions from the Cruisers
So what did the attendees think of this cruise? Here are a few quotes about their experiences.
"My husband really surprised me on the cruise when I texted him "Where are you?" and he texted back selfie of himself to show where he was. He's never done that before!" – from a caregiver
"The best thing about ARC cruises is the inspiration that we get from meeting others who are also on this journey that we call stroke recovery. Learning how others have progressed and overcome obstacles gives us the strength and encouragement that we need to continue on our journey." – from a caregiver
"My husband with aphasia surprised me on this cruise by going on the bumper cars! He also surprised me by staying up each night for a little while for the after-dinner gatherings at the bar, usually at home, he'd go right to bed." – from a caregiver
"My favorite part about the aphasia cruises is watching the metamorphosis of the new cruiser. When they first arrive many are depleted, lack confidence, and do not engage with others; however, by the end of the trip, they are participating in conversation at mealtime, out on the dance floor in the evenings, and having drinks at the bar with a fellow cruiser. The way they blossom and thrive when put in this atmosphere is truly amazing to watch!" – from an SLP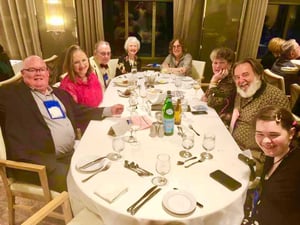 For more information about ARC and ARC events like these cruises, please visit their website.