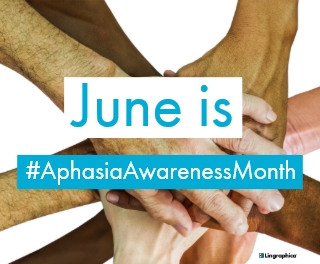 June is National Aphasia Awareness Month. Join us as we raise awareness of this communication disorder that affects 34% of stroke survivors, yet is little-known and often misunderstood.
Every year, Lingraphica joins our friends at the National Aphasia Association and Aphasia Access as we seek to raise awareness of aphasia during the month of June.
Aphasia is a communication disorder that affects a person's ability to process and use language. It is a neurological condition caused by damage to the portions of the brain responsible for language, and it does not affect intelligence. Because language plays such a central role in our daily lives, aphasia can be very challenging. Individuals with aphasia may find it difficult to speak, understand speech, and read and write. Approximately 34% of stroke survivors develop aphasia.
While a diagnosis of aphasia can be a tough one, there is hope. Lingraphica has conducted over 30 years of research, which serves as the foundation for the devices, apps, and online therapy that we create to help people with aphasia. These tools help people find meaningful ways to share wants and needs, personal information, and safety information, which includes information about pain or symptoms of illness. In addition, they can also help reconnect the person with aphasia with family, friends, and social activities that he/she enjoys.
In honor of Aphasia Awareness Month, Lingraphica plans to:
share a Facebook campaign called #TheThingAboutAphasiaIs, where we'll post responses to this statement from people with aphasia, caregivers, speech-language pathologists, and some of our own staff members

share important tips and stories about aphasia on social media

post videos to Facebook and YouTube of people using our communication devices and staff members sharing their thoughts about aphasia

celebrate the end of each week in June with "Free App Friday," when we'll feature a different app each Friday on social media to download for free!
You can help spread awareness, too! Simply share our posts on your own Facebook page or comment on ours. Creating a dialogue about these important topics is vitally important--especially when it can save someone's life.
Whether you are a follower of Lingraphica's Facebook page or have never visited, we encourage you to join the conversation around aphasia awareness. We'll be using the hashtags #AphasiaAwarenessMonth, #Aphasia, and #TheThingAboutAphasiaIs in many of our posts...feel free to do the same with your own. Here's to a great month of educating others about aphasia.
Feel free to download our latest eBook "What is Aphasia," featuring the six types of aphasia, for those who might be new to the world of aphasia or life after a stroke.