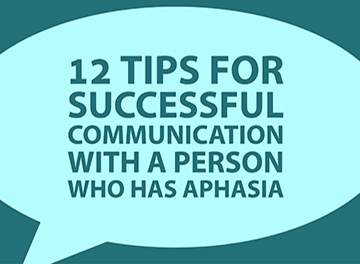 Whether you are a person with aphasia or a loved one/friend, communicating when aphasia is in the mix can be effortful, challenging, and frustrating for all parties involved. Read on to learn about 12 helpful tips to better communication.
Have you ever experienced a conversation like this?
__________________

Communication partner: John, would you like some lunch?

John (has aphasia): Yes.
Communication partner: What would you like?
John: I…I…I… (long pause)
Communication partner: Well…?
John: I…I…want… (long pause, then a deep sigh)
Communication partner: John, I have three loads of laundry to wash, grocery shopping to do, and prescriptions to pick up today. Can you
please decide?
John: (sigh). No. Nothing.
Communication partner: Fine. I can't wait around all day. I'll check back with you later. Maybe you'll know what you want by then. (Leaves the room.)
___________________

Conversations like these happen between many communication partners and persons with aphasia. Oftentimes, both parties end up feeling frustrated, annoyed, and possibly hurt by exchanges like these. So, what can be done?
In an effort to reduce the number of times these types of interactions occur, Lingraphica has created a one-page downloadable sheet of 12 Tips for Successful Communication with a Person Who Has Aphasia. Adapted from the Aphasia Institute's Supportive Conversation for Adults with Aphasia method of communication, the implementation of these tips rests largely with the communication partner. To make things a bit easier, we've broken them down into two categories:
6 tips for helping the person with aphasia understand your message
6 tips for helping the person with aphasia communicate

their

message.
For example, one tip to get the person with aphasia to understand your message would be to use short, simple sentences in a normal tone of voice. Speaking loudly isn't necessary for most people with aphasia, and less complex sentences may be easier for him/her to process and understand. A tip for helping the person with aphasia to communicate his/her message would be to ask "yes or no" questions. This will help you hone in on what your friend or loved one wants to say to you. Remember: as the communication partner, you are the one who can speak. Be patient and supportive when engaging with someone with aphasia. Their speech is a struggle.
Click below for your printable 12 tips…and we encourage you to hang them on a bulletin board, refrigerator, or any place where you will see them on a daily basis. Here's to more effective, supportive communication!